LEGAL NOTICE

This website is owned and administered by the County Council of the Vosges.
Directorate of Youth, Sports and Community Life / Directorate of Information,
Communication and Marketing 8, rue de la Prefecture - 88088 Epinal Cedex 09 Tel: 03 29 29 88 88
// communication@vosges.fr or bike@vosges.fr
DIRECTOR OF PUBLICATION 
DIRECTOR OF PUBLICATION

Mr. François VANNSON, President of the Departmental Council of the Vosges
PROCESSING OF PERSONAL DATA
The information you provide are the County Council of the Vosges.
They are subject to a data processing. According to law "and Freedoms" of 6 January 1978,
you have a right to access and rectify information concerning you. If you wish to exercise this right and obtain information about you, please contact: Departmental Council of the Vosges Vosges Department of Information, Communication and Marketing 8, rue de la Prefecture - 88088 Epinal Cedex 09


communication@vosges.fr
FROM THE AGENDA OF DATA

Most of the manifestations of this Internet site are from SITLOR, the Tourist Information System Lorrain. Data on events are collected by a network of partners, and bound in a common database. SITLOR is funded by CRT, CDT / ADT and OT, funded by the Regional Council of Lorraine and Europe, led by the Regional Committee of Tourism Lorraine condominium with 4 Lorraine Tourism Departmental Committees (Moselle Tourism - Vosges Development - Meurthe & Moselle Tourism - CDT Meuse), this device brings together more than 50 partners, most of which are the Lorraine tourist offices, major information producers SITLOR.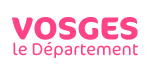 Some organized events (see subsidized) by the County Council of the Vosges which do not appear in the SITLOR information system can be entered on this website.
HOSTING

Www.bike.vosges.fr The website is hosted by Openium, 15 rue Jean Claret 63000 CLERMONT FERRAND on behalf
of the County Council of the Vosges (8, rue de la Prefecture in Epinal).
SITE

This website is made by:
OPENIUM, 15 rue Jean Claret 63000 CLERMONT FERRAND